Browse by Subject Area
Our shared collection with BCcampus breaks down resources by subject area. You can also filter by ancillaries, accessibility criteria, review or adoption status, as you search for the best fit in your courses. We're always here to help if you're not sure where to start.
You can also browse a growing collection of Made-in-Manitoba resources by visiting our PressbooksEDU catalogue.
Browse by Subject Area
Our shared collection with BCcampus breaks down resources by subject area. You can also filter by ancillaries, accessibility criteria, review or adoption status, as you search for the best fit in your courses. We're always here to help if you're not sure where to start.
You can also browse a growing collection of Made-in-Manitoba resources by visiting our PressbooksEDU catalogue.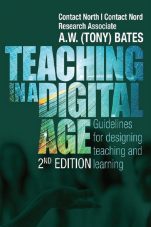 Teaching in a Digital Age - Second Edition by A. W. (Tony) Bates is licensed under a Creative Commons Attribution-NonCommercial 4.0 International License, except where otherwise noted.
Teaching in a Digital Age - Second Edition
Description: The book examines the underlying principles that guide effective teaching in an age when all of us, and in particular the students we are teaching, are using technology. A framework for making decisions about your teaching is provided, while understanding that every subject is different, and every instructor has something unique and special to bring to their teaching. The book enables teachers and instructors to help students develop the knowledge and skills they will need in a digital age: not so much the IT skills, but the thinking and attitudes to learning that will bring them success.
Posted: October 22, 2019 | Updated: October 1, 2021
Author: A. W. (Tony) Bates
Subject Areas
Education, Digital Education
Original source
pressbooks.bccampus.ca
Notifications
Stay informed about updates to this textbook
Adoptions (faculty):
Contact us if you are using this textbook in your course
Further Adaptations:
Contact us if you are adapting this book
---
Request to review this textbook
Reviews (
1

) Avg:

4.6

/ 5
---
Garth von Buchholz

Institution:Royal Roads UniversityTitle/Position: eLearning Facilitator (contractor), Social Media Strategy - Professional And Applied Certificates

Q: The text covers all areas and ideas of the subject appropriately and provides an effective index and/or glossary

Teaching in a Digital Age (2nd Edition) is a thoroughly engaging, comprehensive work about the challenges and almost limitless opportunities for 21st century teachers, instructors and faculty. Author A. W. (Tony) Bates, a pioneer of open education and also a thought leader in digital learning, writes in his introduction that the textbook is a "coach" for teachers who are using technology, but it's also an examination of the underlying principles of teaching. In the spirit or open education resources, Dr. Bates has published his extensively researched textbook as an open education resource through BC Campus with a Creative Commons CC BY-NC licence so that it is reusable, redistributable, revisable, remixable and retainable.

Although the book is available in several readable (such as print, digital PDF, print PDF, ereader and Kindle versions) and some editable formats, it seems fitting that the easiest way to read and navigate the book, and to take advantage of its many clickable links and podcast files, is to use the responsive web format at https://pressbooks.bccampus.ca/teachinginadigitalagev2/. Although some of the mostly decorative photographs and useful illustrations, such as charts and infographics, are more difficult to read on a cellphone or tablet screen, reading the text and navigating the book is a pleasure even on small screens. It is easily searchable using the search tool at the top right of each section; therefore an index isn't necessary when using it in a digital format but could be useful for print.

Part 1 of the book covers such topics as changes in education, theories of learning, epistemology, teaching methods, different modes of teaching, MOOCs and the learning environment. Part 2 continues with media and technology, and examines methods of delivery, educational affordances, open education and how to ensure high quality teaching in a digital age. The full bibliography provided at the end has all the references found throughout the book.



Comprehensiveness Rating: 5 out of 5

Q: Content is accurate, error-free and unbiased

Dr. Bates brings rich insights, technical precision and a high degree of accuracy to Teaching in a Digital Age (2nd Ed.) and the diagrams and supplementary material have been carefully curated and sourced to support and illustrate the content in the textbook without overwhelming it with too many visuals or media. Some diagrams lack the polish of professionally designed illustrations and some seem to be excerpts from slide presentations, but regardless of the aesthetics of any of the images, the author has selected infographics that are captioned in plain language and clear enough to understand at a glance rather than trying to impress with turgid, overdesigned graphics.

However, some of the stock photos at the front of each section are purely decorative and do not offer any value in supporting or illustrating the content that follows; these might be replaced in a future edition with more insightful images. Occasionally, a table with data could be more legible (for example, Figure 4.82.2). And not all the hyperlinks and diagrams are perfect but are easily correctable—for example, in Figure 4.4.1, two arrowheads are missing on bi-directional arrows, which might lead to slight confusion.

The author openly declares when he has a bias "I am frequently labelled as a critic of MOOCs" (p. 255), when he is not entirely sure about the answer to difficult questions or even if he may be wrong about something. This refreshing candidness in his prose is elevated by his decades of experience and his world-renowned knowledge about technology and education, for which he has received much popularity and acclaim, including several honorary degrees.

More problematic were a few knowledge gaps, murky arguments—that computing is a medium not a technology ("Computing is a medium while ICT refers more to the technologies used", p. 399)—and even inaccuracies such as the statement that social media found its way into general use "around 2005" (p. 406)—in fact, MySpace was launched in 2003, Yahoo Groups in 2001 and the term blog was coined in 1997 when this social media activity was active. It is challenging for any author to ensure that information about social media is current and accurate, but in some cases this could have been improved in the 2nd edition, such as figure 8.6.1, an illustration from 2010 that is missing some of the most popular social media platforms today such as WhatsApp, Instagram, Snapchat and TikTok. There's also a statement about "learning styles" in section 9.2.3 which has been strongly disputed by a 2008 study (https://www.psychologicalscience.org/journals/pspi/PSPI_9_3.pdf). Furthermore, the section on MOOCs is overly long at about 50 pages, which makes it seem like an attempt to provide a balanced perspective on a trend that the author himself admits he has been biased against in the past.

Dr. Bates states in the book that he invites readers to email him about any errors, broken links or other issues so he can continually update the textbook and maintain its integrity as an academic resource.


Content Accuracy Rating: 5 out of 5

Q: Content is up-to-date, but not in a way that will quickly make the text obsolete within a short period of time. The text is written and/or arranged in such a way that necessary updates will be relatively easy and straightforward to implement

Teaching in a Digital Age (2nd Ed.) is a modular work that is organized in a format that permits updates to text content and upgrades to the quality of non-text media such as charts, illustrations, infographics, audio and video. In most of the second edition, the author did not find it necessary to replace entire sections or subsections but simply added some new sentences, paragraphs or citations to further expand on the existing material or provide a more current perspective on a subject that was not in the first edition.

His research for the book contains references to a wide array of some of the most important academic articles and publications of the last 10-20 years, and the 2nd edition includes many additional passages and citations, so it is apparent that Dr. Bates is continually keeping up with current trends in technology and education, albeit examining them cogently through a critical lens. The most current and indisputable information can be found in Part 1 of his textbook, which has more static and theoretical content in comparison with Part 2, which is examining new streams of technology, the use of technology in education, and the academic best practices and lessons learned. Foreshadowing this shift is section 6.3.5, which contains a mere two paragraphs about digital natives and how they learn, although it does point the reader to more on this topic in chapter 9. And section 6.6.5 contains only one paragraph on peer support even though this is common in MOOCs and other elearning formats, but additional content on peer assessment does appear later, an added subsection 6.8.3.4 in the new edition.

Several chapters in the book, such as those about gaming and gamification, virtual reality and artificial intelligence, are remarkably well-researched and still relatively current. Nevertheless, that content and some of the less robust content in Part 2, such as section 8.6 on social media, can and should be updated yearly because of rapid changes in social media dynamics, the ephemeral nature of many technologies, and developments in academia that lead to new applications for educational technology.


Relevance Rating: 4 out of 5

Q: The text is written in lucid, accessible prose, and provides adequate context for any jargon/technical terminology used

The author writes in a conversational, entertaining and non-pedantic style. When he occasionally uses terminology that is either an acronym or not written in plain language, he always elucidates on what it means and provides links or references for further information. The book's clarity and readability is somewhat diminished throughout the book by an excessive use of bulleted lists, sometimes appearing one after another. From an information design perspective, bulleted lists are much easier to read in print or online when they are written as simplified "point form" statements rather than lengthy sentences. An improvement for future editions would be to either eliminate some bulleted lists by converting them into paragraphs or reduce the verbiage in the bulleted lists to make the information easier to scan and absorb.

Clarity Rating: 5 out of 5

Q: The text is internally consistent in terms of terminology and framework

Teaching in a Digital Age (2nd Ed.) uses consistent terminology and theoretical framework throughout the book, which makes it easy to cross-reference related information and enables educators and researchers to extrapolate on and explore the theories and models presented. The book's bibliography includes many recent journal articles from leading scholars as well as many foundational academic works, including several books authored by Dr. Bates himself.

Consistency Rating: 5 out of 5

Q: The text is easily and readily divisible into smaller reading sections that can be assigned at different points within the course (i.e., enormous blocks of text without subheadings should be avoided). The text should not be overly self-referential, and should be easily reorganized and realigned with various subunits of a course without presenting much disruption to the reader.

The author states that the textbook is structured so that each chapter will take approximately an hour to read straight. Most of the information design for this textbook supports this division of content while allowing more in-depth reflection and suggested activities to assist in learning the material at a deeper level. Many chapters and sections of content have overlapping or interrelated themes, which often leads to similar information and even phrases being repeated or paraphrased throughout the textbook. Part of this issue may be the absence of a professional editor to help pare the book down and remove redundancies. But another challenge exists because the textbook is architected to be used as a whole or in modules. Thus, if the book is to be truly modular and not be too self-referential—so that readers have to continually flip back and forth between chapters to follow the author's line of thought—each section of the book should be fairly self-contained and not dependent upon whether the reader has also read a previous or subsequent chapter. And, of course, reiterating key ideas and concepts can also be an effective way to reinforce what the reader is learning. The disadvantage for those reading the entire textbook from start to finish is that there is a perceivable echo chamber effect whereby the reader may often wonder "Didn't I just read this same content in another chapter or section?"

Despite this, the book does not present as bloated or overwritten because of richness and comprehensiveness of the content flowing in Dr. Bates's natural, conversational writing style. Nevertheless, additional professional editing is still more effective that crowdsourced feedback as it could have leaned the book down by at least 100 pages from its 767 pages.

Modularity Rating: 4 out of 5

Q: The topics in the text are presented in a logical, clear fashion

Teaching in a Digital Age (2nd Ed.) is informally divided into two parts—the first half, chapters 1-6, focuses on the fundamentals of teaching and learning in a digital age, while part 2, chapters 7-13, is about the impact of digital technologies on teaching and learning, both for individual teachers and their academic institutions. Although the author, at the end of Chapter 6, explains the distinction between the two parts of his book, it would be useful in a future edition to have a title page for each part that could be included in the table of contents, to help readers better understand how to use the book.

Other than that lack of formal partitioning, the textbook follows a clearly architected structure and flow of information that can be previewed in the detailed table of contents, which provides titles and links for all chapters and sections as well as appendices and bibliography. All chapters begin with clear learning goals and are subdivided into numbered sections and sub-sections for easy reference, ending with a list of "Key Takeaways" that allow readers to reflect on the content.

Most sections include questions and suggested activities that challenge readers and ask them to apply what they learned within the context of their own professional experiences. At the end of each chapter is a printed link to a brief podcast (audio) file where the author himself comments on some of the questions he poses and often shares his own viewpoints and experiences. In the digital formats, there are clickable links to each podcast and some videos, too.


.

Organization Rating: 5 out of 5

Q: The text is free of significant interface issues, including navigation problems, distortion of images/charts, and any other display features that may distract or confuse the reader

The digital version of the textbook has a search tool in the upper right side of each section, but the tool has its limitations. When you search using a keyword or phrase, the search results provide the reader with a link to the sections where the term is found, but you still have to read the entire section to scan for the keyword or phrase. Many people using a keyboard in Windows will know enough to use their Ctrl-F key when they are in a section so they can locate the instance of the word or phrase, but this is not possible on a mobile device.

Apart from this functional limitation when using a mobile device, the textbook also has at least two accessibility issues that should be considered carefully in the next update or edition. First of all, many of the illustrations or charts are coloured and the book refers to information on them with reference to their colours. This is an accessibility issue for those with limited vision (who can only see in high contrast) or those who are colour blind (whose perception of colours is either limited or different from other users). These visual accessibility issues particularly apply to the decision to use green text to indicate where the 2nd edition revisions are found throughout the book. Both colour blind and visually limited users would find it very difficult to detect the difference between text from the first edition and text from the second edition revisions.

Interface Rating: 3 out of 5

Q: The text contains no grammatical errors

The whole textbook is grammatically sound with only a few typos (for example, "millennials" was misspelled on p. 327) and a few broken links that may have to do with the tendency of websites to expire or be moved without redirection rather than because of misspellings.

Grammar Rating: 5 out of 5

Q: The text is not culturally insensitive or offensive in any way. It should make use of examples that are inclusive of a variety of races, ethnicities, and backgrounds

Teaching in a Digital Age (2nd Ed.) uses inclusive and gender-neutral language, other than the use of the word "aboriginal" (p. 47) which could have and should be replaced with the more appropriate "Indigenous" or "Indigenous Peoples" (capitalized). The book demonstrates cultural awareness and diversity in its text and in its images of people. Although most of the discussions about technology in education as well as the related research relate to Western society, the author always strives to provide global perspectives whenever possible. The fact that the book is available in Chinese, Farsi, French, Portuguese, Spanish, Turkish, and Vietnamese testifies to its broad appeal and high value to educators in many non-English-speaking and Eastern nations.

Cultural Relevance Rating: 5 out of 5

Q: Are there any other comments you would like to make about this book, for example, its appropriateness in a Canadian context or specific updates you think need to be made?

Teaching in a Digital Age (2nd Ed.) is a superb, consummate reference work for schoolteachers, professors, educational support professionals and administrators, which can also be used effectively as core reading for an undergraduate or even graduate level course about learning in our digital age. As a well-organized and logically planned open education resource, teachers can also clone sections and adapt into a new book or a new course. I recommend this textbook as a solid, reliable, accurate and well-researched scholarly work that not only showcases the author's profound knowledge and decades of academic experience in the subject, but is also imbued with a generous spirit of humanity and an optimistic dedication to helping educators explore new frontiers in the 21st century.