Browse by Subject Area
Our shared collection with BCcampus breaks down resources by subject area. You can also filter by ancillaries, accessibility criteria, review or adoption status, as you search for the best fit in your courses. We're always here to help if you're not sure where to start.
You can also browse a growing collection of Made-in-Manitoba resources by visiting our PressbooksEDU catalogue.
Browse by Subject Area
Our shared collection with BCcampus breaks down resources by subject area. You can also filter by ancillaries, accessibility criteria, review or adoption status, as you search for the best fit in your courses. We're always here to help if you're not sure where to start.
You can also browse a growing collection of Made-in-Manitoba resources by visiting our PressbooksEDU catalogue.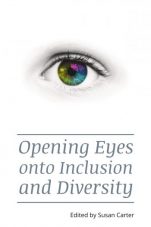 Opening Eyes onto Inclusion and Diversity by Susan Carter (Editor), University of Southern Queensland is licensed under a Creative Commons Attribution-NonCommercial 4.0 International License, except where otherwise noted.
Opening Eyes onto Inclusion and Diversity
Description: In Australia and internationally much still needs to occur to promote inclusive practices in education and society with many educators not feeling equipped to recognise or appreciate diversity or cater effectively for inclusion. With embedded audio–visual components, this open textbook is designed to enhance the quality of the reader's experience with each chapter posing key understandings underpinning inclusion and diversity. Readers are encouraged to answer questions on culture, special learning needs, varied educational contexts, gender diversity and more. The key expected outcome of this open textbook is to engage readers in making meaning of inclusion and diversity and applying their learning to their own individual contexts.
Posted: September 16, 2019 | Updated: April 26, 2022
Author: Susan Carter (Editor), University of Southern Queensland
Subject Areas
Education, Diversity, Equity, and Inclusion
Original source
usq.pressbooks.pub
Notifications
Stay informed about updates to this textbook
Adoptions (faculty):
Contact us if you are using this textbook in your course
Further Adaptations:
Contact us if you are adapting this book
---
Request to review this textbook
Reviews (
1

) Avg:

3.9

/ 5
---
MARIA DEL CARMEN RODRIGUEZ DE FRANCE

Institution:University of VictoriaTitle/Position: ASSISTANT PROFESSOR

Q: The text covers all areas and ideas of the subject appropriately and provides an effective index and/or glossary

• The text is ample in that it covers basic concepts of inclusion based on the Australian experience. The variety of topics is relevant to said context. The book does not include an index, which makes it a bit difficult to navigate or to have a general idea of the content. The book does not include a glossary of terms which could have been useful especially to those interest in comparing and contrasting the more nuanced ways in which diversity and inclusion are operationalized across context and countries. There is however, a list of principles that might guide the creation of inclusive environments. The authors ask the reader to consider these principles as applicable to their own lived experience and professional practice.
• The book is organized in topics that might be interesting to various disciplinary areas. Even though the topics seemed dispersed or not well organized, the book is clearly written, and informative of the Australian experience in special education and issues that challenge special populations such as refugees gender diverse individuals, and Indigenous people, among others. The book includes examples of approaches to work around diversity and inclusion, and it offers examples of the authors' lived experiences in various areas of educational diversity. However, the structure of the book could have been organized differently trying to go from the general to the specific or vice versa. For example, there are chapters that describe professional environments such as nursing and early childhood education, while other chapters refer specifically to the intersections of gender and race or to refugees' experience with English as a second language.
• Chapters 2 and 4, for example could have been arranged back-to-back so as to offer the reader an opportunity to appreciate the same topic (i.e., Early Childhood) from two standpoint. • Perhaps Chapters 3 and 6 could have followed the introduction as they also pertain to Diversity in a more general way.


Comprehensiveness Rating: 4 out of 5

Q: Content is accurate, error-free and unbiased

• There are some errors/misspellings and inaccuracies: one example is in Forward (p. 3) the list of chapters 5 says : "Fostering first year nurses' inclusive practice: A key building black for patient centred care." I believe it should say 'block'.
• However, I still enjoyed reading the book, found the reflection's sections of the chapters helpful and would be excellent to use in a classroom setting at the post-secondary level within the disciplines described in the book.
• The material is unbiased, offering the reader opportunities to appreciate the work on diversity from various standpoints and within the Australian context in particular. Chapter 2 (Different Childhoods…) for example, addresses the positive changes in the use of descriptors and in the language to describe individuals with autism but at the same time offers a section on the challenges that inclusion in educational settings might represent, such as difficulty in communication and establishing social relationships that in turn hinder the completion of schooling.

• One strength of the book is its multidisciplinary work as it covers various disciplines and topics from the lived experience of the authors, most of the time. However, this diversity also offers a challenge in that the book's content might appear to be disperse as opposed to contained within a more general approach.
• Lastly, the use of images that symbolize the main concepts of each chapter are useful complements to appreciate differently what is being discussed in each chapter. While the authors do not mention this, I believe that the images can also be used as part of an activity to engage students in these readings.

• The authors appear to be very accurate in their description of inclusive practices in Australia and from teaching a post secondary course on inclusion in the classroom. The citations and references fo seminal work within certain disciplines is also helpful to appreciate the evolution of language, approaches, and pedagogical practices within each disciplinary area.
• Chapter 7 on inclusion of visually impaired students offers a comprehensive description of approaches towards inclusion in Australia. These can serve as models for other contexts and other countries.

• The last Chapter pertaining to the history of Indigenous populations in Australia is an excellent chapter for those readers who might be less familiar with the history of colonization in said country

Content Accuracy Rating: 4 out of 5

Q: Content is up-to-date, but not in a way that will quickly make the text obsolete within a short period of time. The text is written and/or arranged in such a way that necessary updates will be relatively easy and straightforward to implement

3. Relevance/Longevity
*The most recent reference is 2019, thus the shelf life of this book might be limited in terms of relevant and current literature (not including seminal works, of course). As an instructor, this is very important; while some concepts are timeless, much is changing in the inclusion-diversity field with regard to language use, identity definitions, and other constructs; consequently, having the latest information is crucial. As stated earlier, seminal work is important to appreciate the development of terminology, approaches, and pedagogy both in classrooms and in post secondary settings.

The introduction of the concept of neurodiversity on p. 22 is a phrase that highlights how the description of diversity concepts change and is a welcomed discussion of intercultural differences. The content overall is up to date; however, the literature in each chapter also reveals how quickly things are changing when it pertains to education and research. Consequently, the book will likely need to be updated frequently, which can be a straight forward endeavour in the electronic version.

Typically a reference list has a range of dates, but in all of the chapters there are some out of date books/articles cited. For example one citation uses a 2000 2nd edition of a book instead of the most recent publication (5th edition).





Relevance Rating: 4 out of 5

Q: The text is written in lucid, accessible prose, and provides adequate context for any jargon/technical terminology used

The book uses accessible language, and is contextual enough to provide academics, teachers and other professionals, as well as lay individuals with ample context of the work being described and discussed within each chapter. When the language is too technical, the authors use examples to illustrate the implementation of an approach , for example, or offer similar contexts to amplify their position.
The book is written and organize in a logical and readable manner that describes the Australian context, important aspects of diversity/inclusion (culture, learning differences, and other aspects of special education. The prose is lucid, with no jargon/technical terminology; the writing flows and their are excellent examples that are practical and bring clarity to the concepts.


Clarity Rating: 4 out of 5

Q: The text is internally consistent in terms of terminology and framework

• The text is consistent within each chapter. However, I found that the authors/editors tried to cover so many different topics that the overall 'identity' of the book is lost with so many issues, that while connected, could have been better organized or chosen so as to give more coherence to the book in terms of diversity and inclusion.
There is consistency of terminology in the 9 chapters of this book; the authors are primarily educators from teacher education, Indigenous education, business, early childhood education/law and schools of psychology. The discourse on the various topics of diversity/inclusion are consistent with these disciplines but again, not so much amongst each other.




Consistency Rating: 4 out of 5

Q: The text is easily and readily divisible into smaller reading sections that can be assigned at different points within the course (i.e., enormous blocks of text without subheadings should be avoided). The text should not be overly self-referential, and should be easily reorganized and realigned with various subunits of a course without presenting much disruption to the reader.

The book uses headings, sub-topics and modules in an effect manner and organized in a logical manner (however, please see related comment earlier in this review). The organization makes the book easy to follow the concepts described by the authors. However, as mentioned earlier in this report, there is not index in the hard copy and the table of contents is not as descriptive as it could be (the inclusion of topics in the table of contents).

Modularity Rating: 4 out of 5

Q: The topics in the text are presented in a logical, clear fashion

The topics are presented in a logical and clear manner with the first chapter providing the reader with a summary of the subsequent chapter - to chapter 9 - with a final chapter 10 focusing on applications of special education/inclusion. In addition, each chapter begins with a focus question(s) and "key learnings" that the reader is guided through. There is a the summarizes the chapters through the 6 principles of inclusion and three themes: the multifaceted aspects of diversity; the coming challenges of change, dislocation and disruptions ("supper-diversity") and certainty to uncertainty; and power of silencing (or many differences are unseen/recognized). As noted earlier in this review overall, the variety of topics and issues makes the book appear a bit disorganized.

Organization Rating: 3 out of 5

Q: The text is free of significant interface issues, including navigation problems, distortion of images/charts, and any other display features that may distract or confuse the reader

Most of the pictures, figures, graphs are easy to navigate and provide an excellent clarification of the written text. The book also contains some audio/internet interfaces that are useful as complementary to the chapters

Interface Rating: 4 out of 5

Q: The text contains no grammatical errors

There are some misspellings and typographical errors (some of them noted earlier in this report) but the book has been proof read with excellent writing and editing by the authors. I would rate this book as well prepared and free of common grammatical and spelling mistakes.

Grammar Rating: 4 out of 5

Q: The text is not culturally insensitive or offensive in any way. It should make use of examples that are inclusive of a variety of races, ethnicities, and backgrounds

The book asks readers to use 6 principles of diversity to have a better understanding of inclusion within the following groups: childhood experiences molded by abilities, gender and culture; educational differences and opportunities that are supportive and enable successive learning and development; cultural/racial inclusion in the Australian school context; diversity in early childhood education; during education and inclusion; teaching and multicultural education; working with refugees and ESL; working with students with visual impairments; and an Indigenous cultural perspectives in education.

The book describes from an Australian educational perspective how practitioners, especially teachers, are working to be inclusive in educational settings. The book covers the cultural scene of immigration, refugee settlement, Indigenous and special needs concerns in the school system. From a Canadian perspective, this book would be useful in a comparative way of how others, such as Australians, have adopted diversity and inclusion in their society. Beyond that, the book demonstrates the progress that practitioners, especially teachers, are doing in implementing diversity.



Cultural Relevance Rating: 4 out of 5

Q: Are there any other comments you would like to make about this book, for example, its appropriateness in a Canadian context or specific updates you think need to be made?

Disregarding the fact that the most recent reference is from 2019, the longevity of the book might be limited. On the other hand, this is a book that scholars who are interested in international practices, particularly Austria would find useful. Thus, I would recommend this book to those interested in practices around the world would. International scholars would find what the authors have to say about diversity/inclusion in Australia. One of the other pluses about the book are the reader reflections. The authors invite readers to reflect on certain concepts, which is always useful as educators and practitioners. The book is well organized with the chapters addressing a variety of issues, and key learning objectives at the beginning of every chapter. The graphics are good and highlight important concepts throughout the book.