Browse by Subject Area
Our shared collection with BCcampus breaks down resources by subject area. You can also filter by ancillaries, accessibility criteria, review or adoption status, as you search for the best fit in your courses. We're always here to help if you're not sure where to start.
You can also browse a growing collection of Made-in-Manitoba resources by visiting our PressbooksEDU catalogue.
Browse by Subject Area
Our shared collection with BCcampus breaks down resources by subject area. You can also filter by ancillaries, accessibility criteria, review or adoption status, as you search for the best fit in your courses. We're always here to help if you're not sure where to start.
You can also browse a growing collection of Made-in-Manitoba resources by visiting our PressbooksEDU catalogue.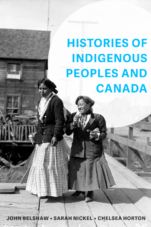 Histories of Indigenous Peoples and Canada by John Douglas Belshaw, Thompson Rivers University, Sarah Nickel, University of Saskatchewan, Chelsea Horton, Vancouver Island University is licensed under a Creative Commons Attribution 4.0 International License, except where otherwise noted.
Histories of Indigenous Peoples and Canada
Description: Since the 18th century, the historical study of "Indians," "Natives," and "Aboriginals" in universities and colleges was contextualized within the story of colonization and growing European influence. Whatever justification might be mustered for that practice, it had real and dire effects: Canadians — including many Indigenous people — came to understand Indigenous histories as tangential, small, unimportant, and even a blind alley. This kind of thinking enabled Canadian authorities and citizens to regard Indigenous communities as being "without history," as in, outside of history, which we can agree in modern times is simply untrue, as this book strives to show. The preface introduces you to some of the practices and challenges of Indigenous history, focusing on the nature and quality of sources, innovative historical methodologies, and the leading historiographical trends (that is, what historians are thinking very broadly and what they have studied in the last decade or four). It turns, then, to histories of Indigenous peoples in the Western Hemisphere before ca. 1500. The twelve chapters that follow are arranged under three headings: Commerce and Allies, Engaging Colonialism, and Culture Crisis Change Challenge. And there is a thirteenth chapter that brings us deep enough into the twenty-first century to allow a visit with two of the most important recent developments in Canadian civic life: Idle No More and the Truth and Reconciliation Commission. Both of these processes arose from the failures of colonialism and the resilience of Indigenous communities. They reveal, therefore, as much about the history of Canada as they do of the historical experiences of Indigenous peoples.
Posted: November 6, 2020 | Updated: June 14, 2021
Author: John Douglas Belshaw, Thompson Rivers University, Sarah Nickel, University of Saskatchewan, Chelsea Horton, Vancouver Island University
Subject Areas
Humanities, History
Original source
histindigenouspeoples.pressbooks.tru.ca
Notifications
Stay informed about updates to this textbook
Adoptions (faculty):
Contact us if you are using this textbook in your course
Further Adaptations:
Contact us if you are adapting this book
---
Request to review this textbook
Reviews (
1

) Avg:

4.4

/ 5
---
Stéphane-D. Perreault

Institution:Red Deer CollegeTitle/Position: Instructor in History

Q: The text covers all areas and ideas of the subject appropriately and provides an effective index and/or glossary

From the get-go (p. ix), this book presents its limitations: it was initially developed in support for a specific course in a specific institution, and therefore its design is not necessarily to be as comprehensive as a textbook that would have been developed with the intent of being explicitly comprehensive. For the post part, this has not been an issue in using this book for the survey course in Indigenous history, but I have had to supplement it with other readings and resources to use it. Most notably, the period between the Royal Proclamation of 1763 and Confederation is notably lacking in detailed coverage, and yet this is, I would argue, a crucial moment in transitioning between the earlier period of "partnership" in the fur-trading age and the intense colonising period that follows, especially after 1850.
The coverage is also -- and this is both refreshing and problematic -- highly centred on British Columbia. It is refreshing because this has been a geographic area that often has been neglected in other survey texts and it reflects the land-based perspective of Indigenous knowledge. However, it is problematic in that it makes it difficult to use outside BC, again without having to make significant use of other resources to complement it. This was mostly the case for Plains Indigenous peoples in the nineteenth century.
With these caveats, however, it is a very useful textbook in presenting novel perspectives on many of the issues it explores and represents a more activist tone that reflects on the role of historians in constructing a discourse around Indigeneity in Canada.

Comprehensiveness Rating: 4 out of 5

Q: Content is accurate, error-free and unbiased

For the most part, this statement is correct. There was only one major questionable issue that I noted (p. 62) when discussing the relation between the Nakóda Oyatépi and "the Sioux". It is to be noted that the Nakoda are one of the three major branches of the Očéti Šakowiŋ (The Sioux Seven Fires Council) and that the statement that "the Sioux taxed Nakoda Oyadebi traders" makes little sense. This however probably stems from the conflicting reports in Settler accounts of relations amongst Indigenous peoples of the Plains, especially when it comes to the Nakoda / Assiniboine.
This was but a very minor issue in the overall context of the book.
The book's tone is not entirely "unbiased", but given the subject matter it is entirely justified in its approach that attempts to shift the narrative away from established Settler narratives of Indigenous histories.

Content Accuracy Rating: 5 out of 5

Q: Content is up-to-date, but not in a way that will quickly make the text obsolete within a short period of time. The text is written and/or arranged in such a way that necessary updates will be relatively easy and straightforward to implement

The topic with which this book deals is one where rapid change is to be expected, in coverage, perspective, and timeliness. In this sense, it may become somewhat obsolete faster than, say, the two Canadian history survey texts. However, in that sense, this is a strong incentive to develop OERs because they provide the necessary flexibility to adapt and update the knowledge, perspective, and content. As I am writing this, the recent revelation of unmarked graves at the Kamloops school certainly brings the need to update some of the stories around residential schooling and the overall impact of colonial / Settler efforts at obscuring and minimising Indigenous history. The book still provides appropriate background information to discuss these emerging issues while also allowing, in its format, adaptability.

Relevance Rating: 4 out of 5

Q: The text is written in lucid, accessible prose, and provides adequate context for any jargon/technical terminology used

From my perspective, the text is written at a level appropriate to junior undergraduates, and for the most part it avoids the technical terminology historians sometimes use. This makes it accessible to students from a variety of academic backgrounds -- which is who we have in our institution, where we do not have a history programme. My only reservation is that it is visible that several hands were involved in creating this text, which means changes of authorship are visible in different writing styles that are not necessarily acknowledged.
One concern I do have, however, is how the last few chapters use significant excerpts from the textbook on Post-Confederation Canada as insets, which often is seen by students as code for "optional reading". I think it would be preferable to have the content in those better integrated into the flow of the text as a whole.
Also, the typesetting of the PDF version is troublesome. The main text is set in a font that is smaller than the footnotes, which makes prolonged reading somewhat uncomfortable for people like me who have visual impairment. Several images that are presented as full-page figures could also have been reduced in size and better set in the text.

Clarity Rating: 5 out of 5

Q: The text is internally consistent in terms of terminology and framework

Terminology and framework are as consistent as is possible in a textbook about a topic where the ways Indigenous peoples have been called historically is by its very nature inconsistent. The only major issue here again have to do with text borrowed from other publications where the word "Aboriginal" has remained in the place of "Indigenous".

Consistency Rating: 5 out of 5

Q: The text is easily and readily divisible into smaller reading sections that can be assigned at different points within the course (i.e., enormous blocks of text without subheadings should be avoided). The text should not be overly self-referential, and should be easily reorganized and realigned with various subunits of a course without presenting much disruption to the reader.

This has been an issue, especially because the text is available in multiple platforms. The course I teach is obviously differently organised from that for which this book was originally created, and I have had to attempt to organise the readings over six of the seven weeks of a Spring-term course (the other week relied on supplemental readings from another book). I found myself having to cut off weekly chapter / section readings at points that were not entirely logical for the way the textbook is organised. I foudn that giving students instructions in page numbers as I had on the course outline did not work for those who relied for the web version, which does not display page numbers. This meant that I had to modify the readings as displayed in the course LMS to include a descriptive element. For example, the first week included readings up to page 23, but since this is not a chapter, but a subsection heading, had to list it differently in the readings list. This is a minor issue, but it points to one of the possible problems of the book being available on different platforms.
Also, the chapters are, for the purposes of the way the course is organised for me, too short to serve one regular term week as the thirteen-chapter structure suggests, and this is especially true of the chapters in the last section, most of which are quite short and deal with issues that are both too recent and specific to warrant a full week's discussion. By contrast, as was mentioned before, there is a significant gap in content regarding the nineteenth century coverage.

Modularity Rating: 4 out of 5

Q: The topics in the text are presented in a logical, clear fashion

For the most part, this is an accurate statement. As with most history texts, this one follows both a chronological primary organisation and a thematic sub-organisation, which enables enough flexibility of use, with the few caveats mentioned before.

Organization Rating: 5 out of 5

Q: The text is free of significant interface issues, including navigation problems, distortion of images/charts, and any other display features that may distract or confuse the reader

Apart from the lack of page numbers on the web version, I have not encounered any issues relating to navigation. None of my students have reported any significant issues either.

Interface Rating: 5 out of 5

Q: The text contains no grammatical errors

I have not noticed any grammatical or spelling errors. However, there are recurrent issues with footnoting, with notes missing (there is a number and no content) or inconsistencies, with references sometimes being put in the text and/or in footnotes (see pages 70-71, PDF version, for an example).

Grammar Rating: 4 out of 5

Q: The text is not culturally insensitive or offensive in any way. It should make use of examples that are inclusive of a variety of races, ethnicities, and backgrounds

This is a tough one. As a cisgender gay male Settler historian, I have not been struck by any major, glaring issue in this respect. However, I do believe the perspective, despite efforts to recognise the Indigenous perspectives on history, remains heavily Settler-centric. It was hard to hear Indigenous voices in the narration. I don't believe Indigenous students would recognise themselves in this textbook. My Indigenous (Iarhe Nakóda) spouse certainly did not entirely feel that this text reflected history as he viewed it. If anything, in this respect, this textbook represents the work-in-progress that is co-creating a representative presentation of the coexistence of Indigenous and Settler peoples on Turtle Island.

Cultural Relevance Rating: 3 out of 5

Q: Are there any other comments you would like to make about this book, for example, its appropriateness in a Canadian context or specific updates you think need to be made?

I do, with some minor caveats: I would like to see it beefed-up somewhat to have a better balanced coverage of historical experiences from coast to coast and across diverse time-frames. I also found that the stories of the Métis and Inuit are underrepresented. This was not a major issue in the way I used the book for my own course, because I am quite aware that the course also underrepresents Métis and Inuit stories by dint of its focus on First Nations. Interestingly, the fact that it is relatively short makes it more likely to be read by students, and that is great; however, as I mentioned, several sections could use some increase in coverage.